Living a healthy lifestyle has always been a priority for many. However, in the old days, people weren't serious about their fitness and health. But in the present time, the busy and hectic lifestyle of people demands to be fit and healthy. As a result, more and more people are turning into fitness freaks or fitness-conscious, which is a good thing. 
To support their dedication and determination, there are numerous businesses that are into the fitness industry and providing the best consultation, workout routines, personal training, diet plans, and more. And to provide all these services in one place, they have gone digital. In this digital landscape, these businesses have understood the power of a mobile application. Hence, they have invested in a fitness app for their users to help them attain a healthy and fit lifestyle from anywhere in the world. 
Isn't it strange as well as interesting that the technology that is somewhere making the human lifestyle hectic and stressful is also being used to provide a fit and healthy lifestyle to people? Well, that's the beauty of modern technology and mobile app development is surely an integral part of it! You would be amazed to know that as per a report, the fitness app market is expected to reach $14 million by 2025. 
If you are amongst those businesses that are in the health and fitness industry but still operating offline, well, you must understand how a mobile app can help you not only provide exemplary services to your users but grow your business as well. 
However, as easy as it seems, you have to do the right research and planning as one of the most important mobile app development practices to ensure the success of your app. Along with the research and planning, there are also certain considerations that need to be kept in mind even before going into the mobile app development phase for your fitness app. 
So, in this post, we are going to talk about all those things to consider before developing an app for a workout app, gym app, or any other type of app in the health and fitness industry. 
Different Types of Fitness App
Developing a fitness app isn't an easy task. Surely you need professional help to build an exceptional health and fitness app. But before that, there should be proper planning and research to know about your target audience, mobile app development market trends, business needs, and most importantly, the type of fitness app that needs to be built for your business. 
Ideally, there are three different types of fitness apps. 
Activity tracking apps
Fitness tracking apps
Workout tracking apps
Social fitness apps
Competitive fitness apps
Altruistic fitness apps
Nutrition Apps
Features That a Successful Health and Fitness App Must Have
One of the most commonly asked questions associated with fitness mobile app development is what are the features that a health and fitness should have.  Now, as a business owner, you can put countless features in your gym app, workout app, nutrition app, or more. But there are certain features that define the success of any health and fitness app. Let's know about those features that must be there in your health and fitness app. 
Creating Account: This is probably one of the most important features that have to be in your health and fitness app. You must give users the opportunity to have their separate accounts where they can feed their personal information, track their fitness journey, know about their customized routines, and more. 
Configuring Notifications: This particular isn't just important for a fitness app, but all applications in general. Notifications can be used to give users updates about the latest offers, their fitness journey, or can be used even as a reminder. Thus, make sure you add this important feature during the mobile app development process for your activity, fitness, nutrition, or workout app. 
Gamification: Gamification is one of the latest additions that is also known as an important feature that works as both entertainment and motivation. Gives users the chance to play the game with their friends, compare the results, and get rewards. 
Integration With Wearable Devices: Wearable devices have become a trend in the present time. And they are majorly used in the health, fitness, and wellness industry. Thus, it becomes a need in the present time to integrate your fitness app with wearable devices during the mobile app development process to provide better and convenient services to users. 
Activity Tracking: If you are building a gym app or workout app, then this is one of the essential features that should be there in your health and fitness app. It will give users the chance to track their progress and everything. 
Food Logging: Now if you are building a diet or nutrition app, then this feature should be there in it. Since food plays a crucial role in attaining desired fitness, you should give your users the option to keep a track of what amounts of nutrients they are intaking throughout the day. 
Factors to Keep in Mind Before Developing a Fitness App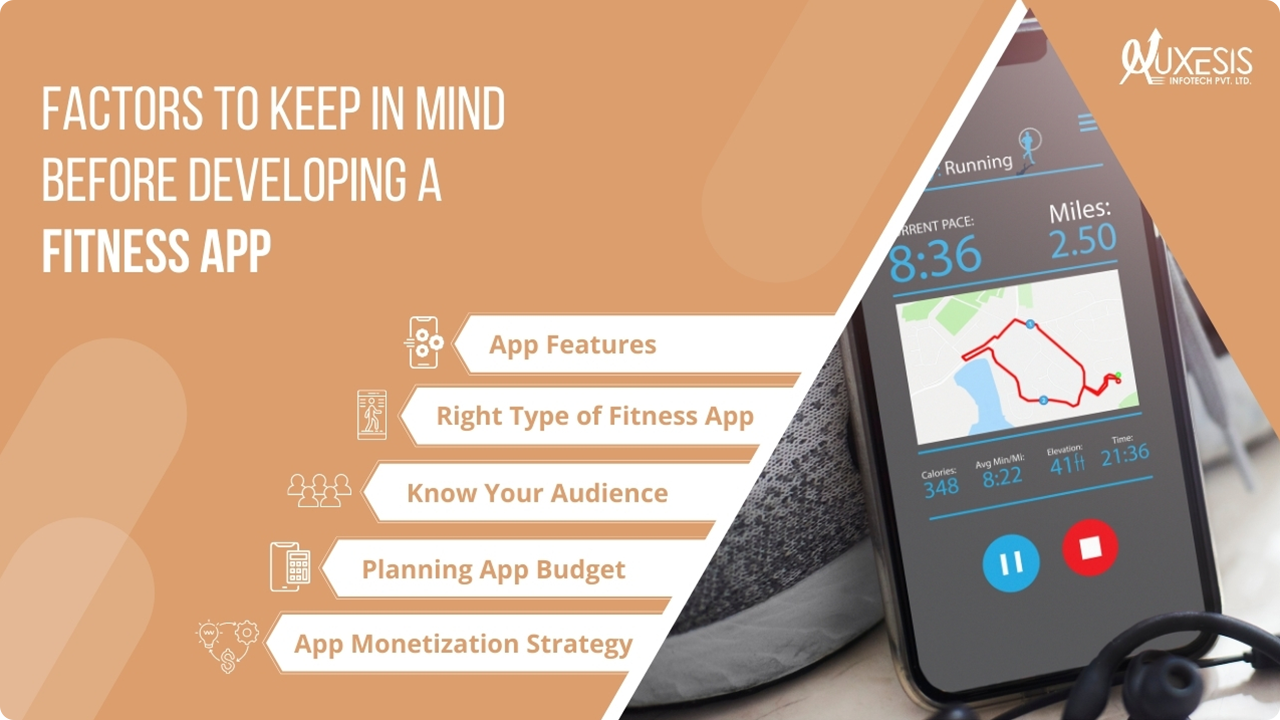 Just like any other application, a health and fitness app also needs professional care and assistance from an experienced mobile app development company. Along with ensuring professional supervision for your gym, nutrition, or workout app, it is crucial to ensure certain other factors before going into the mobile app development process. 
Know The Right Type of Fitness App For Your Business
This is the foundation of your entire fitness app development process. Surely, you don't want to create the wrong app for your health and fitness business. Since we have already talked about the different types of health and fitness apps, it must be easy for you to understand that every business in the health and fitness industry operates differently. Therefore, the mobile app development needs can also differ amongst businesses. Keeping all important factors like your services, business objectives, expectations, and more, you can find out the right type of health and fitness app for your business. 
In order to make your product a big success in the market, it is extremely pivotal to develop it for the right audience. Now, this is the part that could make or break your gym, nutrition, or workout app even if you have hired the best professional mobile app development support. Knowing your target market or the audience is one of the first and the most important things before going into the health and fitness app development process. And to know that, you have to research well, plan well, and analyze the market in the right way. 
App Monetization Strategy
There is nothing wrong with expecting a monetary return from your app. After all, you are into a business! But all you need to do is be realistic with your app monetization strategy. Whether you are building an android app or an iOS app, you need a monetization strategy. It is important to understand that your monetization strategy needs marketing support before and even after the launch of your gym, nutrition, or workout app. There are a number of models that you can follow as a part of your monetization strategy. Talking about that, there are generally 5 models in the mobile app industry - in-app purchases, paywalls, paid model, freemium, and in-app advertising. 
Now your app features are another crucial factor that could entirely affect the success of your health and fitness features. Thus, during the research phase, it is crucial to also know about the app features that are trending in the market in your health and fitness app category. The app features aren't just another thing in your fitness app. In fact, they define how your users perceive your application. For example, in the present time, wearable technology is very much a trend, thus, users expect a health and fitness app to support wearable devices. So, integrating wearable devices into your app becomes crucial. 
Planning App Development Budget
Once the planning and research part is done, the next will take you close to beginning the mobile app development process. But before that, you have another important thing to take care of, which is the budget of your health and fitness app. Surely, you are not planning to splurge on fitness app development. Doesn't matter whether you are building a native app or a hybrid app, you should have a proper app development budget. And in order to create one, you need to consider a few things such as the need to create an app, platform analysis, the need for an in-house team or outsource offshore developers, evaluation of features and functionality, app store submission, and marketing budget.
You may also like:
Traits To Look For In The Best Mobile App Agency
Design Errors that Can Destroy Your Mobile Application
Top Mobile App Development Frameworks to Use in 2021
So, these are some of the most important things or factors that must be considered before starting the mobile app development process for your health and fitness app. And once all these factors are well taken care of, the next step is hiring a professional mobile app development company. Talking about the best service providers, Auxesis Infotech is an acclaimed mobile app development company offering the best solution to clients and implementing it effectively through exemplary mobile app development services.