Do you use social media platforms?
If so, how many social media platforms do you use?
Also, what's the average time you spend on social media every day? 
Once you get answers to all these questions, you will get to know about the significance of social media in our lives. And there is nothing wrong in saying that social media has indeed changed the way we interact with people and make new connections. Though there could be different opinions about the importance of social media, the fact is, it has indeed made our lives a lot easier. And today, a social media platform isn't just restricted to messaging and image posting. There are more amazing social media platforms other than the very famous Facebook, Twitter, and Instagram. 
Today, social media isn't just serving as a platform to build new connections with like-minded people but is also a great marketing tool for businesses, be it a startup or an established organization. As a result, the social media industry has received a lot of attention in recent times. More and more businesses are investing in it to build a unique social media platform. 
And if you also have a unique idea ready for your social media app, well, we are here to help. Doesn't matter if it will not be a messaging app, as long as your idea is unique and compelling to users, you have the chance to make your social media platform flourish in the market. And to help you with that, we are here to help you with everything about your social media app development process. 
Being an experienced firm in the field of mobile app development, we have immense knowledge. Hence, through our years of experience and knowledge, we are going to tell you everything about your social media app development project ranging from the trends, types, features, and development cost. 
What is a Social Media Network?
Perhaps, everyone in the present generation knows about social media in general. But have you ever wondered what is the exact definition of a social media network? In broad terms, a social media network or a social media platform is a digital tool that facilitates easy and quick sharing of content and communication. A social media platform is either a mobile app or a website. Initially, social media was only accessible through computers. However, at present, people are accessing it through smartphones. 
Talking about how a social media app or website works, well, every social media platform works in a different way. However, almost every platform starts with a user signing up or logging in to the platform. Once the profile is created or the user is successfully logged in using the email address and password, he/she can use all the features of the particular social media platform. 
Types of Social Media Platforms
In the process to create an ultimate social media app, it is crucial to know about the category of your social media platform. And for that, you need to dig deeper to know about different types of social media platforms. 
1. Social Networking Sites
This is the most popular type of social media platform that we all know as social media networks. Yes, Facebook, Twitter, and LinkedIn are popular examples of social networking sites. They work on the basic concept of social media, which is to allow users to connect with friends, family, and brands. Apart from that, such social media platforms also facilitate knowledge sharing. In other words, social networking sites 
2. Image Sharing Sites 
These types of social media platforms allow users to view, save, and save visual content such as illustrations, images, and infographics. Snapchat and Instagram are two very popular image-sharing sites that come under social media. Just like social networking sites, users have to sign up or log in to the image-sharing platform. Once the user is logged in, he/she can create, curate, and share visual content on the platform. 
3. Social Review Sites
Reviews are very crucial in the present time. Whether a user is planning to buy a phone or to travel to a new destination, the first he/she will do is check reviews. And that's where social review sites come into the frame. Such social media platforms allow people to drop reviews on a particular product or place. As a result, this benefits the users who are planning to buy that product or visit the place to make a decision. TripAdvisor and Yelp are two popular social review sites. 
4. Community Blogs
Not many know that community blog platforms are a type of social media platform. Now it is crucial to know that we are not talking about the blogging website that you have built to write and share your ideas. There are many blogging platforms that allow people or experts to connect with readers and share useful information with them through blogs on their choice of topics. Medium and Tumblr are two popular examples of the community blog platform. 
5. Discussion Sites
The time has changed; people in the present time are so vocal towards anything. Everyone has their own political views, thoughts, psychologies, and more. And discussion sites serve as platforms where these people can write and share their views and thoughts with others. Quora and Reddit are the two very popular discussion sites. 
6. Video Hosting Sites
This is probably the most sought-after social media platform type. And we all know how YouTube has revolutionized the way we stream videos. Such platforms allow users to browse through a wide range of video content. Other than YouTube, Vimeo is another popular video hosting social media platform. 
Features That Your Social Media Platform Must Have
As a business owner, surely you want to add the best features into your app, isn't it? Well, if so then it is crucial to understand the importance of an experienced app development firm that can help you achieve the desired result. 
Now talking about the features of your social media platform, it highly depends on the type of your social media app. However, there are still some common yet important features that must be there in your social media platform, irrespective of its type. 
Profile Customization
Voice-enabled chat
In-app call
Text editor
Third-party integration
Simple user interface
Quick login
Push notifications
Easier search
Top-notch security
Private communication/messaging
Content sharing
Open forum
Analytics
Location-based content
Latest Social Media App Development Trends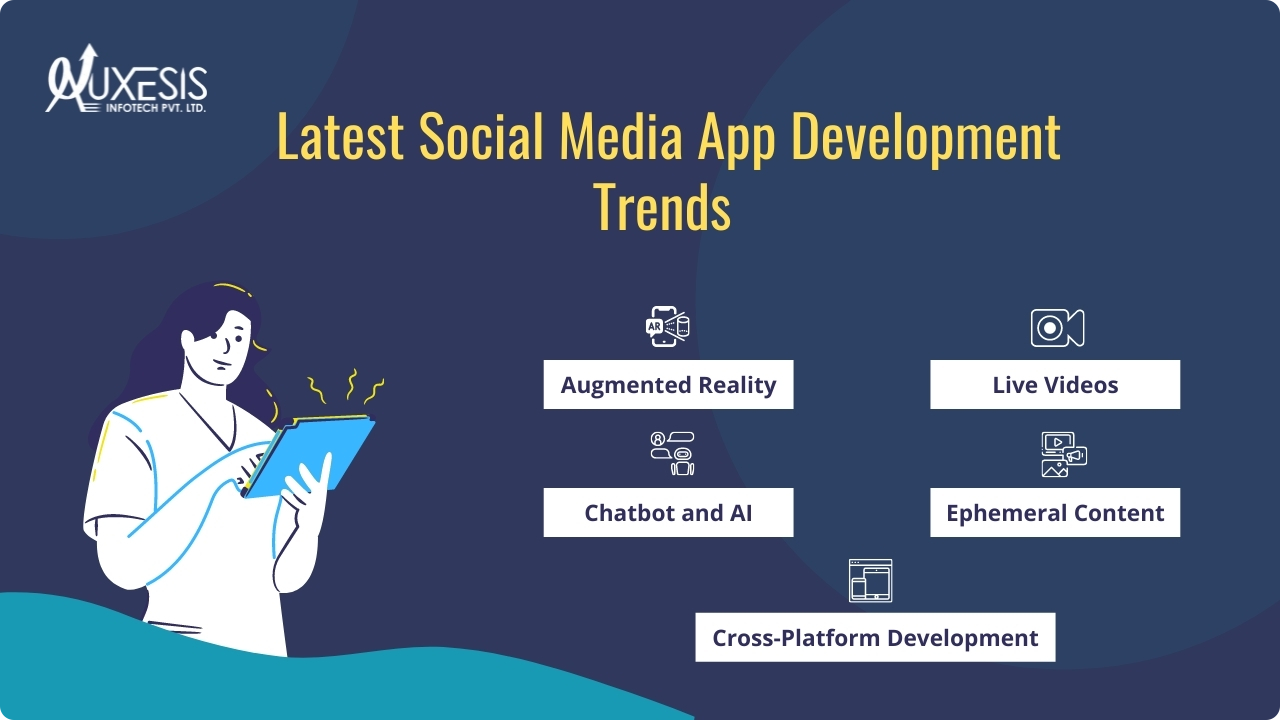 The basic rule of app development says that an app should be built keeping all the latest mobile app development trends in mind. Talking about the trends, well, here are some important latest social media app development trends that you must implement in your project. 
AR technology is booming at a great pace. One of the main uses of AR technology in social media platforms is to allow users to use face filters. Instagram and Snapchat are those popular social media platforms that use AR technology for their face filters. 
One of the most interesting live streaming stats says that "live content earns 27% more minutes of watch time per viewing". Therefore, live videos should be one of the top features that you must look to add during the social media app development process. Since live videos or content is a great way to engage and connect, brands use it as an important marketing tool. 
If you are thinking of building a social media platform, well, chatbot and AI technology must be there in your app as a measure to improve customer services. Not just for a social media app, but chatbot and AI is a sought-after trend for all types of mobile apps. However, to implement this technology effectively in your social media app, make sure to have the best support in the form of professional mobile app development services by your side. 
In case you don't know, ephemeral content means short-duration content that disappears after 24 hours. Yes, Whatsapp, Instagram, and Facebook stories are examples of ephemeral content. Such type of content is appealing and people remain eager to see them knowing that they will disappear in 24 hours. Therefore, ephemeral content is one of the most important social media app development trends to watch out for. Not just for individuals, but social media platforms like Facebook, LinkedIn, and Instagram support business marketing and this particular feature can give those businesses more options to grow. 
Cross-Platform Development
Most businesses remain confused between cross-platform app development and native app development - which one to choose. No doubt native app development wins by a large margin, and hence, has its own set of advantages.
But here we are talking about social media app development. Surely you want to build a social media platform for the users of all devices. And if so, then it would be a lengthy and costly process to create a native app for both iOS and Android users. Therefore, cross-platform development is the best option. And to support and make your social media app development project successful, there are many cross-platform app development tools. 
How Much Does It Cost to Build a Social Media App?
After knowing every important detail about a social media app development project, we are now on to the most asked and awaited part - the cost of social media app development. As a business owner, it is crucial to understand that every social media app development project has its own set of requirements and needs that could impact the development cost. 
However, when it comes to cost, it isn't possible to give an exact answer as the cost of developing a social media app depends on various factors. Of all the factors, the location of the outsourced mobile app development team matters the most. It's no hidden secret that app developers in regions like Western Europe and North America have higher hourly rates as compared to hiring an app developer from Asian and Eastern European countries. However, you can expect the average rate to be $50 per hour. Besides, the average time to develop an app is around 1900 hours. So, it makes an average total of around $94500. But that's not it, there are other factors as well that affect the development cost. 
So, let's have a look at those other crucial factors that influence the cost of developing a mobile app. 
App purpose and functionality
Mobile platforms; is it android or iOS app development
Use of visual objects
Integration points
Use of phone's hardware features
Complex animation
Maintenance plan
Prototyping
You may also like:
App Review: 5 Easy Ways to Do It
An Ultimate List of 5 Little-Known App Stores
Top Mobile App Development Frameworks to Use in 2021
Knowing all these factors and your app needs, you can easily calculate the development cost of your social media app development project. However, if you need any professional consultation or assistance, you can reach out to us. Auxesis Infotech is a top-rated mobile app development company having immense experience and expertise working on various social media pp development projects. We have expert professionals to provide the best consultation, solution, and mobile app development services to businesses across diverse needs.